(27) Cabecera Compromiso ambiental
Environmental commitment
We have a logistical and financial mechanism that guarantees, on behalf of our adhered companies, the protection of the environment and the health of people by carrying out selected collection of the used oils generated, management of the same in accordance with the order of priority determined by the regulation and compliance with the ecological targets established.
102-tabla-objetivo-de-recuperacion
Since SIGAUS began, every year we have complied with the ecological targets for collection, recovery and regeneration of these used oils, on behalf of our adhered market. In the table attached, the calculations that confirm this compliance for the last year are presented.
Collection Objective
95% OF WASTE OIL GENERATED The rate of 44.85% confirms the achievement of the target, exceeding the 40% used by the Ministry of Agriculture, Food and Environment.
---
Recovery Objective
100% OF WASTE OIL GENERATED The sum of the oils collected and regenerated through recycling or for posterior energy recovery, including oil that cannot be regenerated, is the equivalent of the total used oil collected, implying recovery of the entire waste.
---
Regeneration Objective
65% OF COLLECTED WASTE OIL REGENERATED. 79.37% of the waste oils have been regenerated.
---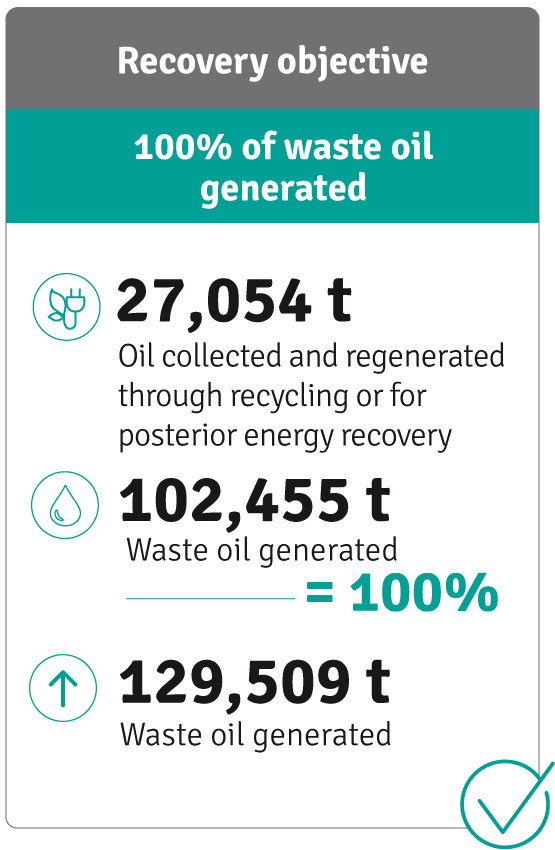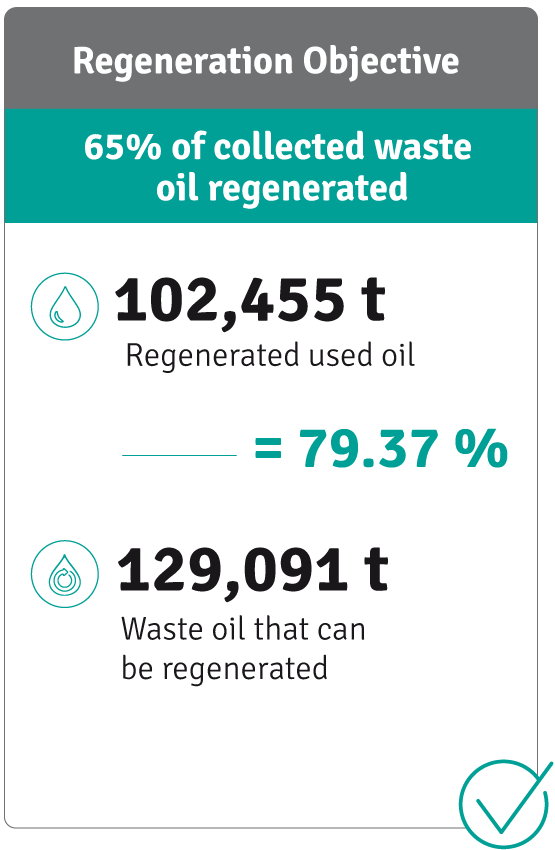 * A generation coefficient for used oil above 40% guarantees compliance with the collection objective, as the authorities admit that, during use, lubricant oil loses up to 60% of its volume.
11 PIE DE PÁGINA. Sabias qué?. RECUPERACIÓN DEL ACEITE INDUSTRIAL USADO. Compromiso ambiental.

Did you know...?
In 2022, regeneration permitted the use of 102,455 tonnes of used oils, saving 68,000 tonnes of CO
2
emissions to the atmosphere, equivalent to what would be absorbed by a 30 years old poplar forest of 254 hectares.
---